Wear The Peace
Invites You to Give Water in Gaza
✅Yes! I want to turn my compassion into hope.
Drinking water shouldn't be risky.
But experts at the UN warn that the water quality in Gaza is slowly poisoning its residents.
Up to 98% of Gaza's groundwater is unfit for human consumption.
More than 50% of Gaza's children suffer from waterborne parasitic illnesses.
Infrastructure is routinely destroyed, leaving thousands without access to what little clean water is available.
Many Gazans resort to purchasing water at exorbitant rates, or risk using polluted water that can cause infections and diseases.
With your help, they don't have to.
You can help refill water tanks that provide safe, clean water to Palestinians in Gaza.
Your Compassion Makes a Difference
Baitulmaal operates

400 water tanks in Gaza

, and each tank needs to be refilled at least weekly, especially in the long, hot days of summer.
For $60/month or $720/year, you can provide clean water for 5-7 families in Gaza.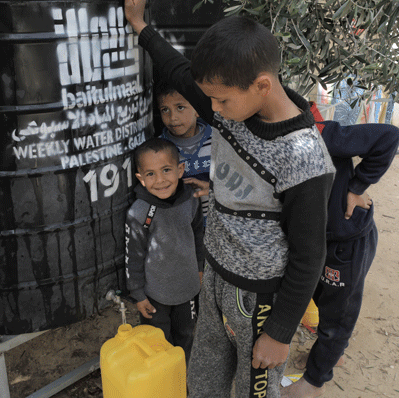 Can they count on you?
Your compassion keeps the clean water flowing. You can sponsor a water tank refill or give a general gift to support water access for those in need around the world.
Give the gift of life-saving water today with a generous monthly or one-time donation. 
Fashion That Puts Humanity First
Founded in 2016, Wear The Peace's founders, Murad Nofal & Mustafa Mabruk, set out to create a brand that spreads awareness to the atrocities happening around the world and simultaneously gives back with every purchase. 
In 2016 Murad & Mustafa got together and brainstormed how they could make a difference. They were both children of refugees and both saw the direct outcome of the refugee crisis. After weeks of conversations, they came up with the brand, Wear The Peace, and made it a statement to ensure that the brand sent loving messages, spread awareness to issues around the world, and gave back to the humans who need it most. Wear The Peace is a brand that believes "Each one of us can make a difference. Together we make change." 
Join them in turning your compassion into hope for Palestinians in need.