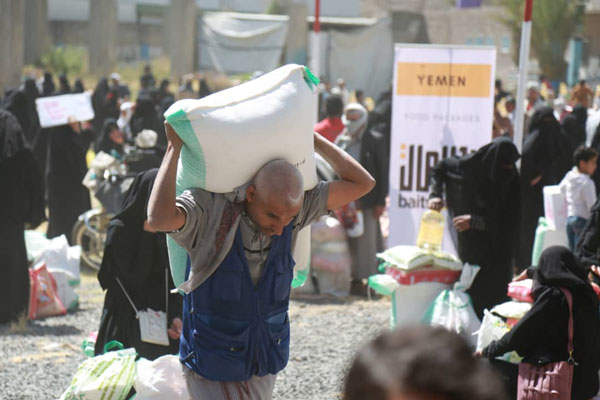 IBB, YEMEN, December 3, 2020 — Baitulmaal, a Dallas-based international humanitarian aid organization, with funding support from global activism nonprofit Avaaz, distributed 1,342 food packages providing an estimated 724,680 meals to families suffering from acute malnutrition during the ongoing humanitarian crisis in Yemen.
The aid is in response to food insecurity experienced by refugee and host communities in Ibb – Directorate of Dhihar and Al-Mishnah Al Hudayda – Al Barea District, with the focus on women-headed households and financially marginalized families. The food baskets contained staples such as flour, rice, sugar, oil and canned vegetables for a total of 8,052 individuals.
Elizabeth Sohail, programs manager at Baitulmaal, said the food delivery is part of a larger effort to get critical aid to displaced families facing worsening hardships in Yemen.
"People there are hungrier, sicker, and more vulnerable," said Sohail. "These food packages can be the difference between life and death for many families."
The United Nations describes Yemen as the world's largest humanitarian crisis, with 80 percent of the population reliant on humanitarian aid. According to their Integrated Food Security Phase Classification (IPC) analysis of malnutrition in southern Yemen, acute cases in children under five reached a new high, increasing about 10 percent in 2020 to more than half a million. This rise is due in part to recent flooding, escalating conflict, economic decline, significant underfunding and the coronavirus pandemic.
United Nations Secretary General António Guterres issued a statement on November 20, 2020, that "Yemen is now in imminent danger of the worst famine the world has seen for decades" and that millions of people could die without immediate action. Sofia Latif, senior operations officer at Avaaz, said teaming up with Baitulmaal was an avenue to provide essential life-saving support.
"Yemen is being ravaged by civil war, a cholera epidemic, massive starvation and now a global pandemic," said Latif. "We felt an imperative to work with a reputable charity to get food to the starving and water to the thirsty in hopes that we can save lives that might otherwise be lost through inaction."
Since 2018, Baitulmaal has sent over $5.6 million in aid that provided meals, antibiotics, medical supplies, and hygiene kits to Yemen. If you would like to learn more or contribute to the emergency aid programs at Baitulmaal, please visit their website at Baitulmaal.org.
Baitulmaal is an international humanitarian aid organization that provides life-saving, life-sustaining and life-enriching aid to people in need around the world. With headquarters in Dallas, Texas, the charity has offices in: Los Angeles, California; Chicago, Illinois; Detroit, Michigan; Nairobi, Kenya; Mogadishu, Somalia; Amman and Al Ramtha, Jordan; and Karachi, Pakistan.
# # #
???? Click right or left to view additional images ????
???? Click right or left to view additional images ????